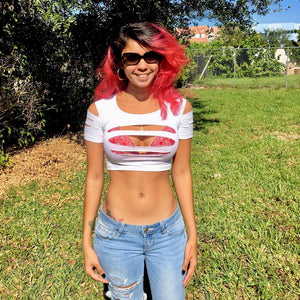 Low Rise Leggings Coming: We Need Brand Ambassadors to Wear Them with our Crop Tops
Our new low rise legging bottoms are coming within 2-4 weeks.  We are going to begin with low rise leggings, capris, and shorts, with plans to expand into jeggings and skirts.  These will be ultra low rise, similar to the styles used in the 1990's and 2000's.  They are very hard to find.  
We will also need new ambassadors to show them off with our crop tops.  Our platinum ambassadors will receive almost unlimited crop tops and low rise bottoms for free in exchange for shooting our tops and shouting us out.  There is a full description on our brand ambassador opportunities page with a link to the application, but basically we need ambassadors who are reliable, trustworthy, and willing to stick with our brand for the long term.  (Many of our ambassadors have been working with us for years).  You also have a true love of your body and high level of comfort showing your stomach and belly button (or be willing to build that up with us).  We encourage women who have inspiring stories to apply; we want everyone to be able to dress comfortably in our style of clothing.  Make sure that you have the time to commit; Keep in mind that there will be about 10 photos per shoot and the instructions can be challenging at first, but it gets easier and very quickly.  We look forward to welcoming you to our family.  Learn more and apply here.  Click on the pictures below to meet some of our all star ambassadors (if everything works out you will also get your own bio page.
---